As someone who is usually the smallest person in the room in just about every room, I have quite the love/hate relationship with online shopping. More times than not, I'm left deflated by what I thought would be my next 'it' outfit for the season only to find that it looks like a potato sack. Don't get me wrong, I am a proud 5'1″ woman, however, it's a struggle to find petite woman's clothing in today's fashion landscape. Or, at least 'regular' clothes that look good on petite woman. It's either too long, too baggy, too oversized—we somehow become the Goldie Locks of online shopping.
So, I thought it would be helpful for my fellow petite friends if I shared what some of my purchases actually looked like compared to the 5'8"model who sold you the look.
Disclaimer: This post contains affiliate links which means I may receive a small commission if you purchase any items through these links. Any products I recommend, I genuinely love and want to share with you all.
Expectation
Reality
First up, this Free People denim dress. At first I was a bit skeptical about it given how baggy it looked. I imagined it would fit me like a potato sack, but decided to take a chance regardless. As soon as I tried it on I was immediately surprised at how good it actually looked. It was much more flattering for my shape than I thought. The fact that it actually gave me a waistline was a huge bonus — no need to belt it. And, the puffed sleeves are a fun embellishment that give the dress a hint more character. It falls at the perfect length and last, but not least, it has pockets (which is goals with any dress IMO)!
This is definitely a keeper.
Size: XS
COST: $128
Expectation
The jury is still out on this one. I wanted to really love this one since it looks so good on the model. But, once again, she is probably 7-8″ taller than me, so I see why the dress looks so good on her. But for the rest of us, I'm honestly not sure. What I do love about this dress is the fun pattern – sort of a nod to the 70s with its vintage flare. The material is also super soft. And lastly, I love that it has a hint of ruching along the waist that is flattering. I am wearing a size M but I arguably could have sized down to a S.
Size: M
COST: $128
Reality
Expectation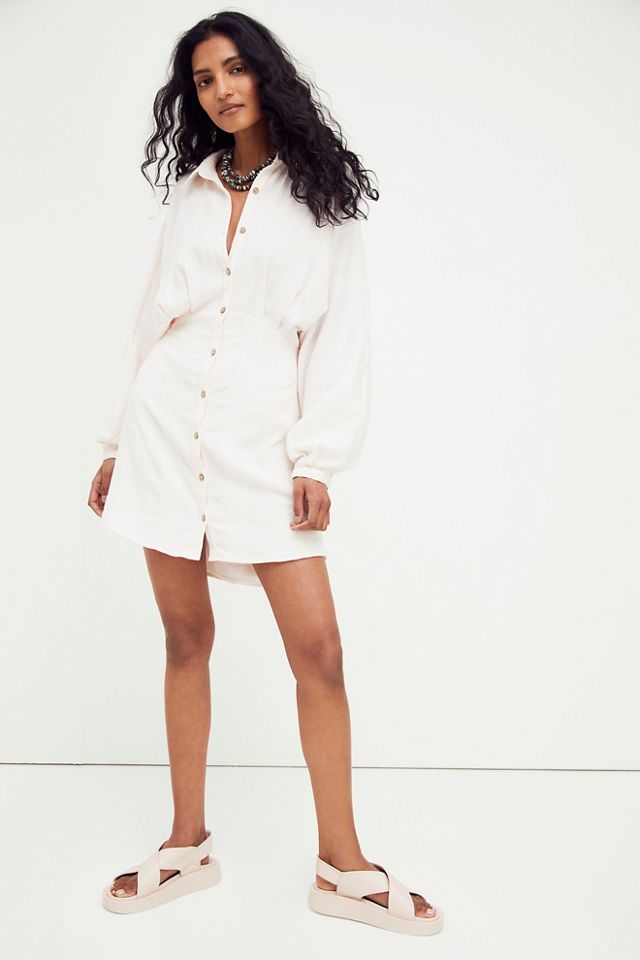 Reality
Much like the Shayla mini dress above, the jury is also still out on this one. It buttons all the way down where it's loose on top but tight and flattering from the waist down. The top of this dress feels a bit too loose (honestly, reminds me a bit of Seinfeld's pirate shirt – if you don't get the reference, pls google). But, I think you can get away with the look. It doesn't have any pockets which is disappointing but it makes up for it in length. For a petite person, it falls at the perfect spot on the leg to make it look elongated but bit too short.
Size: S
COST: $78